Graham Elvis told Ellis Clark to tell you to get out to The Mayne Stage Theatre for The Great New Years Eve Spectacular! 3 bands champagne $23. Get your tix now at www.maynestage.com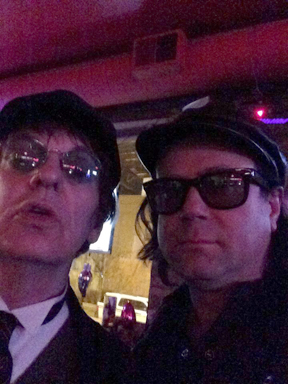 Graham Elvis-- Get you tickets now or Ellis is going to ... Well he's just going to....
Dec. 26 -- Contest over. All 5 prs of tickets claimed!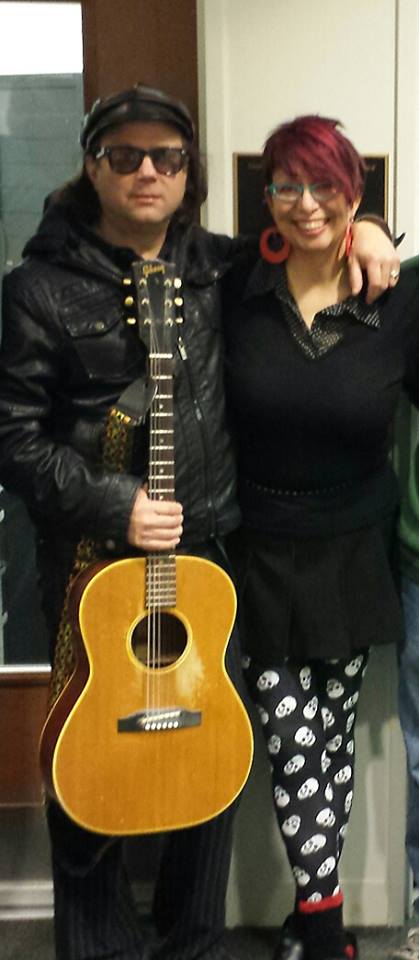 Ellis Clark with Di Kulka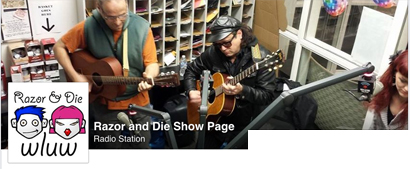 12-25-14
Merry Christmas! Be sure to Tune in to 88.7 FM Radio at 4pm Chicago Time this Friday December 26th to hear myself, members of Liquid Soul & The Amazing Heeby Jeebies (Tommy Klein & Ary Jeebie) plus my drummer Jerry King be interviewed on The Razor & Di show about our upcoming New Year's Eve Concert Spectacular at The Mayne Stage Theatre. You might even get a chance to phone in and win a pair of tickets to this mad crazy rave up. We're also debuting new first time ever heard studio tracks on the radio and playing a couple of tunes live unplugged. Should be a gas. You can stream in to listen at this link: http://tunein.com/radio/WLUW-887-s30828/ And if you haven't purchased your tickets yet to our New Year's Eve Mayne Stage Shindig (Chicago's Best NYE Event Ever for only $23) go to maynestage.com to get your tix now. All the best! Ellis

12-19-14
Ronnie Spector told me to tell you to be sure to get your tickets now in advance for the great New Year's Eve Concert Spectacular with my band Ellis Clark & The Big Parade, the legendary Liquid Soul, and The Amazing Heeby Jeebies at The Mayne Stage Theater before it's too late and this darn thing sells out!!! Go to the maynestage (dot) com website to get your tix now!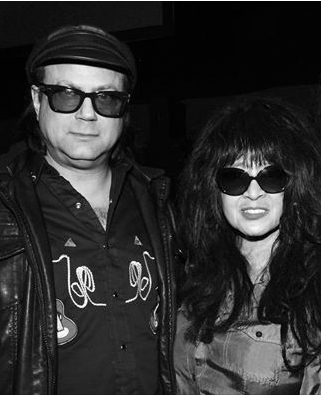 11-18-14
THE MIXTURE ANNOUNCES their brand new single release for Black Friday Record Store Day, November 28 2014!! Limited numbered edition of 200 copies only! on PINK VINYL!! First 50 copies to be purchased will be signed by the entire band! Stay tuned for more details!!!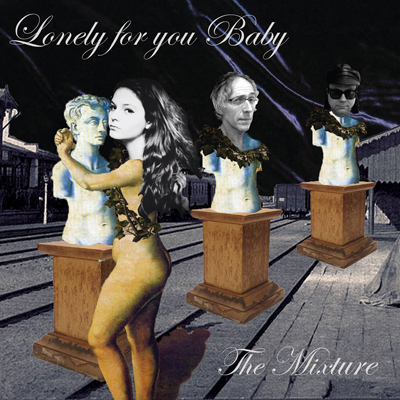 To buy you can go to Vintage Vinyl Records!
11-12-14
I had the pleasure to meet Dave Davies of The Kinks tonight. One of my all time favorite heroes. This is the second time we've met as my band Epicycle was lucky enough to open up for him at The Abbey Pub about 10 years ago.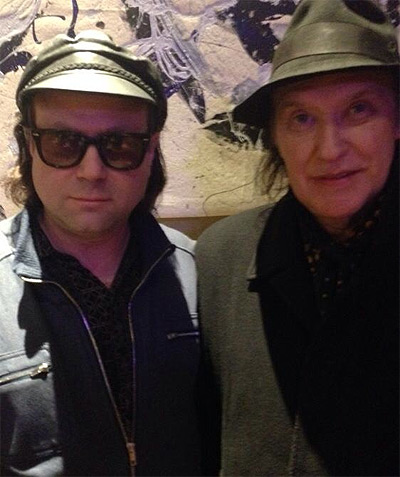 10-27-14
My former band Epicycle just hit the #2 spot on the Chirp Radio Playlist this week. The album is a collection of old recordings made by my band in the late 70's/early 80's & re-issued by the very fine Chicago based label Hozac Records. It seems my 19 year old past self is becoming famous years later and now I have to compete with him LOL. If you'd like to pick up this this release on Vinyl or CD it's available at select record stores or directly from Hozac Records at this link:
http://hozacrecords.com/epicycle/ (Also available as a download)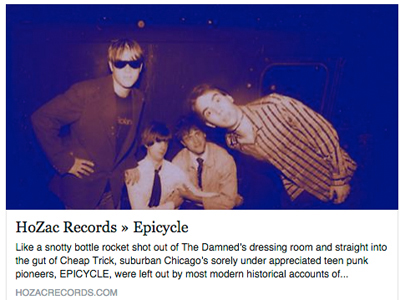 (Photo by Brian Shanley.)
10-13-14
Spent this morning at Chicago Mastering watching the latest Mixture 7-inch record get cut. A new single out soon that I produced and played on.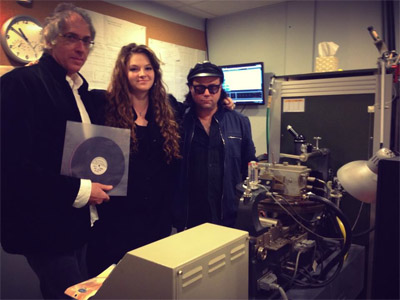 10-1-14
The test pressings for the latest one sided 7-inch single by The Mixture arrived today I got to play Hammond B-3 Organ & Guitar plus produce it. The song is called "Lonely For You (Baby)". This is the 2nd single by The Mixture. On bass and lead vocals is Steve Kay (owner of Vintage Vinyl Records in Evanston) & Hannah Gray on drums & back up vocals. Record out soon. Visit http://themixtureband.com
9-17-14
Had the good fortune to hook up with Lenny Kaye Monday night at Bottom Lounge where we witnessed a great set by the band Television. For those of you who don't know, Lenny plays guitar for The Patti Smith Band and is an amazing musician. He also compiled the Nuggets Collection of classic garage rock and is well known for his writings on music.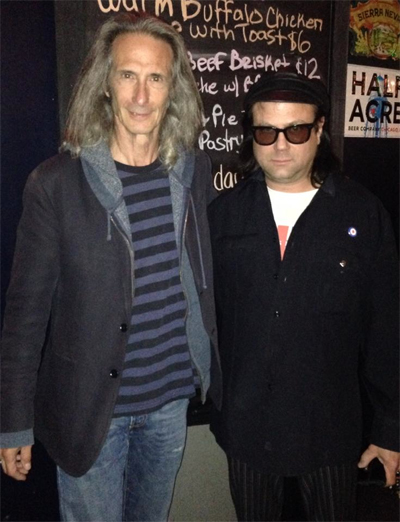 9-7-14
I'm excited to announce that as of yesterday I just finished producing my 12th full-length album for the Chicago based label CAUDog Records. The album is The Lauren Wolf Band entitled 'Rise Up'. I had a fantastic time getting to know & work with this very talented group of musicians. And Lauren is an amazing vocalist who knows how to rock with the best of them (Joplin/Etheridge) Please join us for the record release show Saturday Check out the poster.
Di Kulka
8-21-14
Throwback Thursday ....
Page 4 of Time Out Chicago!
2007 in the Rogers Park WLUW studios! With The Handcuffs!!!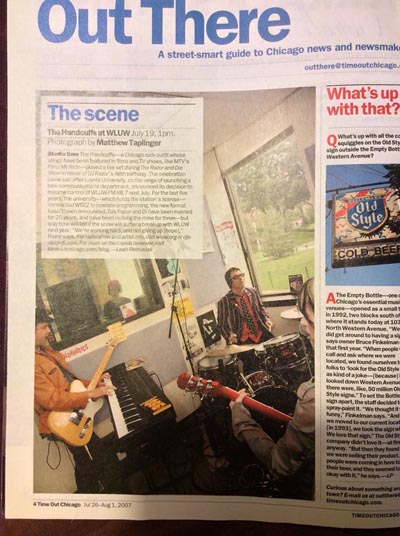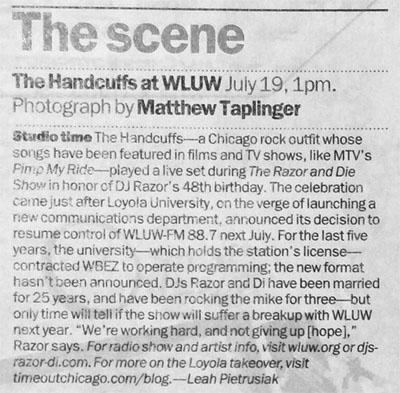 It was an honor to meet Peter Noone from The Herman's Hermits about 10 minutes ago. Hope to see you Friday August 29th at my Mayne Stage Theatre show in Chicago. Cheers! Ellis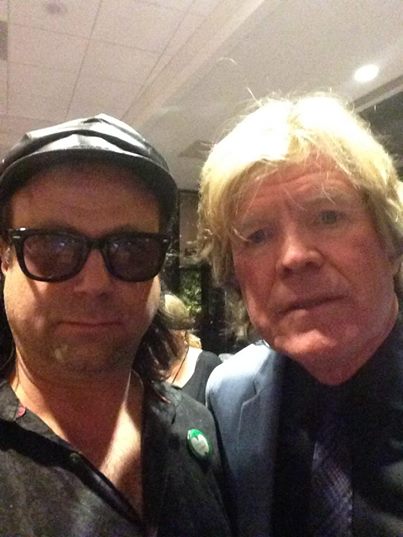 May 16, 2014
Last night I attended a photo exhibit of legendary photographer Brian Shanley's historic pics of power pop punk bands. Here I am standing under a print of my old band Epicycle with the man himself Brian Shanley. Brian used to snap Epicycle quite a bit back in the day. It was great to catch up with him and his wife again after so many years. This exhibit is part of The Black Out Fest held at The Empty Bottle for two more nights tonight Friday and tomorrow Saturday night. Put on by our good friends at Hozac Records. Includes some amazing performances by The Dictators and The Boys. Hope to see you there! All the best! Ellis — with Brian Shanley.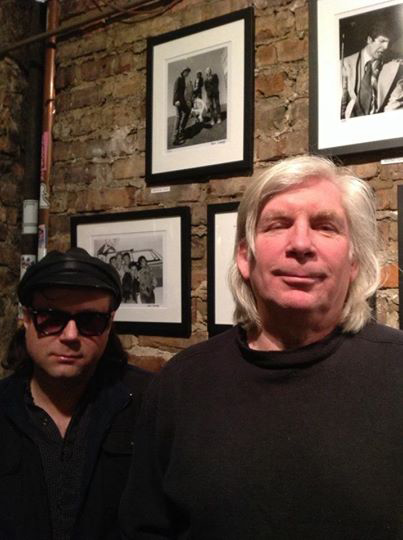 I Guess I've Got A New Friend!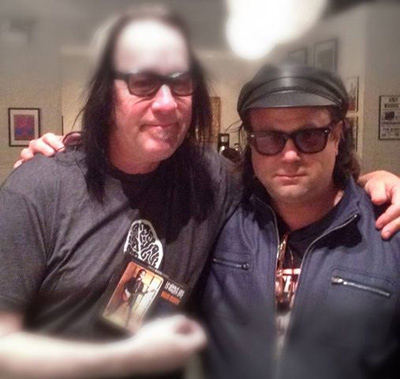 Todd Rundgren and Ellis Clark

4/12/14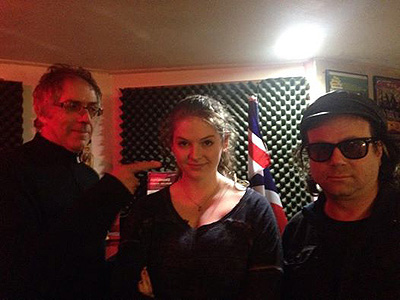 The Mixture was with Ellis Clark and 2 others.


4/8/14


I'll be on WGN's Midday News Show today Friday (11am - 1pm CST) playing a couple songs on keyboards with The Future Laureates. Tune in if you can!
http://wgntv.com/2014/02/21/music-lounge-the-future-laureates-perform-live/
2/21/14
John Rose Radio Show
Be sure to listen to the John Rose Radio show at www.uicradio.org Mondays from Noon to 4pm CST. He's been spinning tracks off my new solo album plus some pretty cool stuff.... including Petula Clark my Aunt. OK that'd be really cool if she was my aunt but alas she's not, perhaps a long lost relation?) :)

11/11/13
John Rose :
I played "Sleep Like A Child" on today's show, nice one! www.uicradio.org
Ellis:
Thanks John! ...Thanks for spinning me today. I really appreciate your support. It's inspiring and makes me want to make more music. & It's pretty cool to be on the radio!
John Rose :
You are very welcome, I love the album!
------
Had a nice lengthy musical conversation Monday night with James Bagshaw lead singer for the band The Temples who have just arrived from England. Later that night, my son and I were fortunate enough to witness their very first American performance at Chicago's Empty Bottle. I am very excited about their music. Check them out if you can. They have just released their debut album. Pictured from left to right: James Bagshaw and Ellis Clark. 11-20-13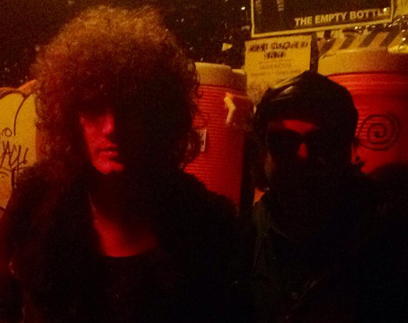 This evening I had the good pleasure of meeting the very talented Kevin Parker (frontman for the band Tame Impala from Australia). 10-11-13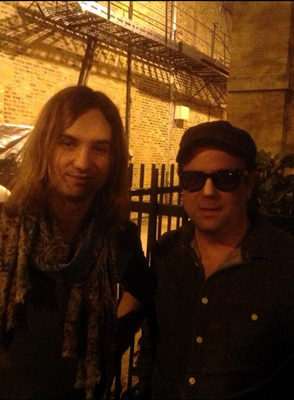 I'm excited to report that WXRT is going to spin my song "God In The 1980's" off my new album "LP Number One" this Sunday at 7:30PM on Richard Milne's "Local Anesthetic Show".
wxrt.cbslocal.com/show/local-anesthetic/ This song features guest vocals from the very very talented Carla Prather Carla, along with the phenomenally world famous saxophone legend Mars Williams, who will be on stage with my band and I at my Record Release Show. This will be at The Mayne Stage Theatre Saturday October 5th 8PM (1328 W. Morse Ave. in Chicago/Rogers Park) Come celebrate with us, it's going to be a great night. Also on the bill: Goodbye Home and The Amazing Heeby Jeebies. (click here for more info). And a big thanks to Richard Milne at WXRT! Thank You Richard!
A new UK Sunday Times review of the new Kevin Tihista album "Modern Standard". I'm honored to have produced and played on it. Thank you and congrats to Kevin and to Alan at Broken Horse Records UK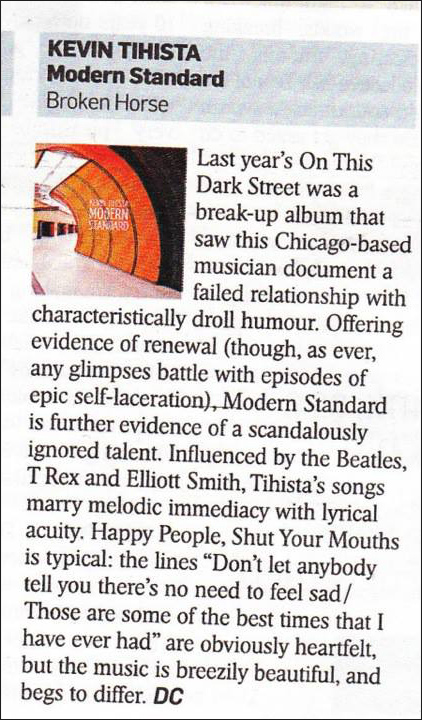 7-28-13
My son Andrew and his bandmate Gabriel were working up a new song today for their upcoming album. I'm proud to say that I'm producing them and their band name is Aethereal. Not in the picture today was their singer/drummer Tommy. Song 1 is coming along nicely! 6-18-13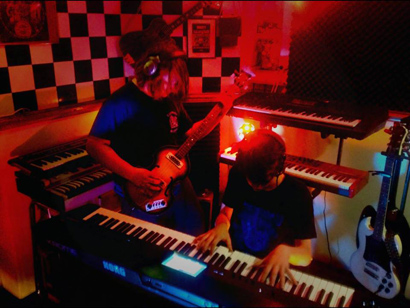 The Ellis Album: My CDs just arrived! 4-16-18
Just drove some over to Vintage Vinyl in Evanston. They are the first and currently only record store on this planet to be carrying it!
Epicycle Compilation: Select tracks could be reissued.
Ellis At Vintage Vinyl Records!
"I'm pleased to announce that in honor of this Saturday's RECORD STORE DAY and celebration for the release of my new solo album "LP NUMBER ONE", I'll be performing a one off show at VINTAGE VINYL RECORDS (Saturday afternoon 1pm April 20th). Vintage Vinyl is one of the coolest record stores on this planet. And I'm honored that they have supported my music over the years and are letting me perform inside their legendary store. And only at Vintage Vinyl on this Record Store Day will you be able to get my new CD or receive a complimentary CD when you Pre-Order the LP version. The LP will be a Special Limited Edition 180 Gram Red Vinyl Record limited to 250 copies worldwide. I'm on at 1pm and my old friends the amazing Luck Of Eden Hall will be on earlier at 11am. Hope To See You There! Where: VINTAGE VINYL RECORDS 925 Davis St. in Evanston, IL. (Phone: 847-328-2899). When: 1pm, Saturday Afternoon, April 20th, 2013" Ellis Clark

for more info on this album, click here!
More Current Projects...

As a Musician
The Handcuffs: The Handcuffs embody the spirit of rock music's uninhibited, sexy and overbearing appeal. A perfect blend of style and energy. They do not sound like anyone else, but at the same time they seem very familiar. They are influenced by everything good that sells and anything good that doesn't. Rock music is loud (not just in volume, but in its nature), pompous and fun - and The Handcuffs embrace every reckless minute of it. Prolific writers and producers, The Handcuffs have officially released two albums, recorded with Mike Hagler (Wilco, the Pulsars, Neko Case, the Mekons) at Kingsize Sound in Chicago, with the third scheduled for releasein late summer 2011. Songs from the debut CD "Model for a Revolution" and their follow-up "Electroluv," (in addition to many unreleased tracks) have been placed in numerous feature films and television shows on the CW, MTV, VH1, A&E, E!, Showtime, PBS, FUSE, Fuel, ABC and NBC, including Gossip Girl, Roadtrip Nation, Jersey Shore, The Hills, The City, Laguna Beach, Margaret Cho's The Cho Show, Celebrity Rehab and many more. The Handcuffs are also featured on the soundtrack of the Sundance and SXSW award winning documentary The Education of Shelby Knox by New York production house and champions of free thinking Incite Pictures. The Handcuffs have been receiving airplay on dozens of college, commercial, satellite and internet radio stations throughout the world. The band also performed at CMJ in New York City this past year where they debuted songs from their most recent album.

As a Producer
Jeff Brown (Folk/Pop)
Jeff Brown sings love songs for people who are sick of love songs. – Chicago Acoustic Underground
Jeff Brown is one of the few artists who can claim allegiance to folk and metal and pull it off effortlessly. Plus, he plays the accordian, which is kind of cool. The depth of his songwriting took an incredible journey and crosses boundaries and pulls you in.
Diva Kai (Pop/Ambient/Storyteller)
Diva Kai is a singer, songwriter and musician who performs with an all female back-up band. Her music is an eclectic mix of genres with an emphasis on Indie Rock.
"Music is a way for me to relate to the world," says Diva. She writes from life experience, creating versatile songs with interesting chord progressions and key changes, melodic intricacies, and emotionally inspired lyrics.
With a background in theater, Diva creates a performance that encompasses a spectrum of emotions. She communicates through music, addressing life experiences that often have positive resolutions. Her talent, exuding charisma, and positive energy never fail to captivate any audience.
Valentine Xavier (Quirk Rock with Cabaret Injections)
Valentine Xavier was born and raised on the south side of Chicago (the baddest part of town), which means he has a custom Continental and an Eldorado too. He is the winner of quite a few prestigious awards, an avid dancer, and a skilled screenwriter. Word on the street is that he carries a baby blue switchblade named Julius instead of a razor in his shoe. It is also quite possible that the writer of this bio has mistaken him for bad, bad Leroy Brown. Either way, his forthcoming album, Subterranean Sutra, diversely draws from such greats as the Replacements and Woody Guthrie, while still remaining poignant and appealing to today's alt folk country scene. Also, it is sure to learn a lesson 'bout messin' with the wife of jealous man.
Junction 325 (Energetic Folk/Pop)
Junction 325 performs mostly unplugged, original music with a select few, tasty cover pieces within the pop, rock, folk and Americana styles. The main focal points of this band are the intricate, interwoven layers of strong 3 to 4-part vocal harmonies, the elaborate, complex and whimsical interplay between the strings of the guitars and/or the violin, the rich, bottom, warmth and stability of the 5-string acoustic bass, with all of the above being driven by melodic percussive beats
This 5-piece band brings their own influences of various music genres and their own performance experiences to the table. The band consists of Cathy Narvaez (vocals and percussion), Jack D. (guitar and vocals), Sarah Wong (violin, guitar and vocals), James Neff (percussion and vocals) and Mike "Vez" Narvaez (bass and guitar). The Junction 325 songs are purposeful and meaningful and the bands' unique music style combined with their performance stirs the listeners' thoughts and emotions.
Matthew Morgan & The Lost Brigade (Pop/Folk)
Matthew Morgan and the Lost Brigade is a hard-working band that has made its mark on the Chicago music scene, now pushing into the Midwest. With the diversity of banjo and 6-strings alongside psychologically edgy rock, they blend hopeful and upbeat rock with the deep reality of folk roots.
With songwriting led by Matthew Morgan, the six-piece rotates as backing musicians and full-fledged collaboration. Morgan is a visual artist and musician, as is bassist Kevin Lahvic. This connection to Chicago's Wicker Park art scene sets the group apart, as MMLB carved a niche via well-attended shows at local art galleries including Chicago's renowned Flat Iron Art Building.

MMLB is as "intense as whiskey with all the flavors of fine wine . B ombastic, upbeat pop/folk grabs audiences by the hand. It's a sweet slow dance …" (OnAxis Music)