Listen to Ellis Clark Music on ReverbNation. Click here:


Epicycle

10-27-14
My former band Epicycle just hit the #2 spot on the Chirp Radio Playlist this week. The album is a collection of old recordings made by my band in the late 70's/early 80's & re-issued by the very fine Chicago based label Hozac Records. It seems my 19 year old past self is becoming famous years later and now I have to compete with him LOL. If you'd like to pick up this this release on Vinyl or CD it's available at select record stores or directly from Hozac Records at this link:
http://hozacrecords.com/epicycle/ (Also available as a download)

(Photo by Brian Shanley.)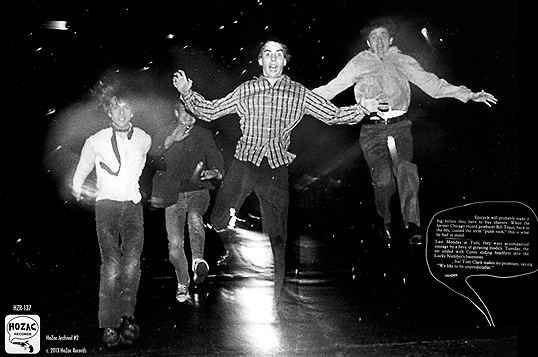 Epicycle was the band that Ellis Clark (then known as Andrew Clark) founded in 1977. Epicycle went through 3 incarnations before it settled into its most commonly known line-up which consisted of Ellis (Andrew) Clark/Lead Vocals, Guitar & Keyboards, Robert Conte/Lead Vocals & Bass Guitar, Terry Turner/Guitar & Back Up Vocals, Keith Fox/ Drums (1979-1980) later to be replaced by Ellis Clark's brother Tom Clark/Drums (1980-1982).

During the years 1979-1981, Epicycle released 2 extended play 7-inch records, a 7 inch single ("School Girls" backed with "Residential Area") and a 12 song LP album entitled "Epicycle Special First Edition" all on their own label Cirkle Records.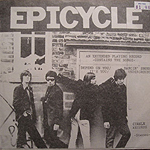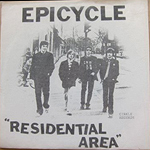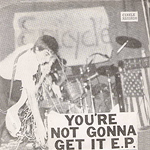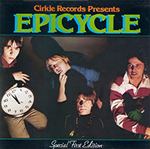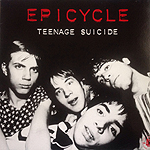 These records are now long out of print. The most sought out record being their "You're Not Gonna Get It E.P." which has gone for as high as $400 in the collectors market. Also issued during this time on Epicycle's Cirkle Records were 2 seven-inch records by The bands Identity Crises & The Imports. These records were produced by Ellis Clark & Robert Conte. An Interesting note is that Identity Crises lead singer is a cousin of Sub-Pop Records founder Bruce Pavitt and their guitar player was Kim Thayil (who went on later to form Soundgarden).

In 1980 Ellis Clark of Epicycle was interviewed by Bruce Pavitt for Sub-Pop Fanzine back when the publication was based in Chicago. Most of Epicycle's live performances took place in the Chicago area where billings included sharing the stage with The Plimsouls, James Chance & The Contortions, Popperz, The Dadistics, and The Special Affects (whose members included Al Jorgensun/guitar later of Ministry and Harry Rushakuff/drums later of Concrete Blonde). Super 8 Sound Film and Video footage exists for some of Epicycle's performances during this period. In the summer of 1981 Epicycle made a cameo appearance in the Hollywood movie "Four Friends" which was directed by "Bonnie & Clyde" director Arthur Penn.

Epicycle performed their last show January 1982 at The Winnetka Youth Center. The group then disbanded. Epicycle has been regarded as one of the more influential bands from the late-1970's/early '80's Chicago power-pop/punk scene all done during a time when most of the band were still in their teens. Ellis Clark later went on to form Social Act (1986-1998) and then (along with his brother Tom) resurrected the name Epicycle to make 3 albums (between the years 1995-2008) More information on these periods coming soon to this website.

2 compilation albums of studio and unreleased recordings from the 1977-1982 period of Epicycle have been issued in recent years. These are entitled Epicycle "Teenage Suicide" LP/CD (2006) by the Italian label Rave Up Records (now out of print) and the more recent release Epicycle "You're Not Gonna Get It 1978-1981"from the American label Hozac Records (October 2013) is currently in print as an LP, CD or Download and can be ordered online from Hozac Records. A second Epicycle LP of studio and unreleased recordings from the 1977-1982 years is being considered by Hozac Records for a possible 2014 release. Watch out for more Epicycle photos and videos to be posted to this website. Also, visit the Epicycle Fan Page on Facebook.

Facebook Epicycle Fan Page!




Another nice review of the new Epicycle compilation album just put out on Hozac Records. This one comes from Pitchfork Magazine.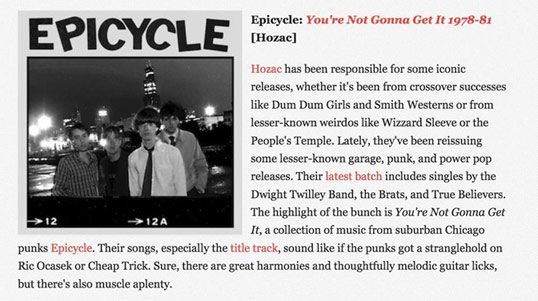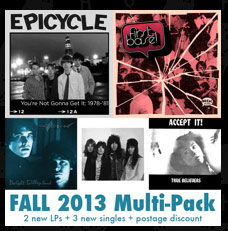 Hozac Fall 2013 Combo Pack
Hozac Archival 5 Pack

The album and the cd can also be purchased individually from Hozac also MPs can be downloaded from ITunes
click here for details

---

THURSDAY, SEPTEMBER 19, 2013
CD Review: Epicycle - You're Not Gonna Get It: 1978 - '81


You're Not Gonna Get It: 1978 - '81 makes a strong case for recognizing the essential role Epicycle played during the nascent days of the Chicago punk/indie pop scene. The recently released CD includes the quartet's self-released three singles and LP, plus some demos. As critic Todd Killman points out in the extensive liner notes, (taken from his Victim Of Time blog) these guys formed a record company to sell their music—and a few other local bands' music—at a time when that sort of initiative was extremely rare. And they were teenagers when they did it.

Epicycle pursued a few different styles during the three years chronicled here. "Standing On The Corner," from 1978, has a raw punk sound, and the band was still taunting mainstream society with the defiant "Hardcore Punk" and "Radical Attitude" in 1981. "You're Not Gonna Get It" and "Life Is A Breeze" mimic the revved-up arrangements of The Ramones.

In addition to combating racism and intolerance, Epicycle also satirized self-absorbed hipsters via the guitar-driven garage rock of "The Stare." The melodic pop of ""High School Junkie" is ironic considering the song's troubling lyrics, while the 1960s flavored "Biological Reaction" sounds a bit like Paisley Underground masters, The Three O'Clock.

You're Not Gonna Get It: 1978 - '81 not only provides a much-needed perspective on Epicycle, it's a treat for those who still fondly remember the vital music at that point in Chicago's culture. One of the band's founder's Ellis Clark, has continued to make music with other bands over the years, and recently released the solo project, LP Number 1.


another review from Broken Hearted Toy:

http://brokenheartedtoy.blogspot.com/2013/09/cd-review-epicycle-youre-not-gonna-get.html

HoZac Records "Chicago: summer of '79. I remember catching many inspiring shows by the remarkably epic mod/pop band Epicycle. They were the most melodic and anthemic (and youngest) of the Chicago bands I was lucky enough to witness, and were undeniably the hit of the punk/alternative loft party circuit that summer." - Bruce Pavitt, 2013, founder of Sub Pop Records/Subterranean Pop fanzine

Cool piece by Sonic Masala on the new Epicycle LP:


"...Then we have the excellent Epicycle, a late 70s punk act that Hozac are thankfully shining a light on once more. These clean cut snots from Chicago were healthily instilled in the brotherhood of punk's true pioneers, but their relative obscurity is a goddamn shame. This retrospective, You're Not Gonna Get It, beautifully exemplifies the juxtaposition of Epicycle's raw-edged pop with their propensity for scabrous wit and sweaty abandon. So it swings from Ramones aping, Kinks aping, The Who aping… Yet rather than remain an adept and chameleonic tribute band, Epicycle transcend due to their excellent songwriting chops and their insistent mining of insidious hooks. Seriously, I wish these guys could play at my wedding, if I ever get married of course. Perfect soundtrack to what I see as a tumultuous, scary yet life-affirming event. Or the soundtrack to a train ride with a bunch of tweakers. Plus they have the song 'Radical Attitude' with the line "I'm the guy that you shot down/I'm the guy with the long hair and a radical attitude/I'm the nigger white honky Jew all wrapped up in one."




---

So we have the pop fizz with the sardonic fuzz. My day is infinitely better. How about yours?"

http://sonicmasala.blogspot.com/2013/12/hozac-takes-me-to-first-base-on-epicycle.html

12-4-13
---
Just Unearthed! EPICYCLE Music Video of our song "Underground". Off our new Best Of album "You're Not Gonna Get It" now available on LP, CD or Download from our good friends over at Hozac Records (hozacrecords.com). Enjoy!


http://www.youtube.com/watch?v=QgJWesTjtJM
12-15-13

Ellis Clark with Epicycle (August 1979)

EPICYCLE "Underground" From The Album "You're Not Gonna Get It" on Hozac Records

11/10/14







Connect Online:

Twitter @EllisClarkMusic

Facebook


CAUDog Records
You can purchase these records here!
price for each record is $12.99, which includes shipping and handling.
Ellis' solo album:
LP Number One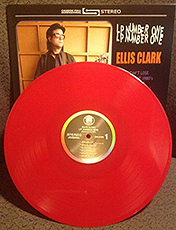 Epicycle's
You're not gonna Get it!